We are focused on impact.
Terrapin was created out of the Partners' shared sense of urgency to transition to a sustainable development model that could only be achieved by working with developers, communities, and companies around the world. Since 2006, this concern has become an imperative to not only create a sustainable world but one that is aligned with natural processes and supports human health and wellbeing at all levels. Through our collaborative charrette process, we identify the goals and aspirations of our client and their community, develop an implementation plan, and then provide guidelines and other tools to support their project's success.
Bill Browning
Founding Partner
Bill Browning is one of the green building and real estate industry's foremost thinkers and strategists, and an advocate for sustainable design solutions at all levels of business, government, and civil society. His expertise has been sought out by organizations as diverse as Fortune 500 companies, leading universities, non-profit organizations, the U.S. military, and foreign governments.
Early in his career, Bill helped build Buckminster Fuller's last experimental structure. In 1991, he founded Green Development Services at the Rocky Mountain Institute, an entrepreneurial, non-profit "think and do tank". His consulting projects at RMI included new towns, resorts, building renovations, and high-profile demonstration projects including Wal-Mart's Eco-mart, the Greening of the White House, the National Aquarium, Disney Hong Kong, the Pentagon, Lucas Film, Grand Canyon National Park and the Sydney 2000 Olympic Village. In 1999 Green Development Services was awarded the President's Council for Sustainable Development/Renew America Prize.
Beginning in 2004, Bill was the Director of Design and Environment for Haymount, a New Urbanist community in Virginia. In this capacity he led the development's site planning, authored a set of design guidelines, and guided development of innovative infrastructure systems. In 2005 he co-founded Browning+Bannon LLC, an independent real estate and consulting firm focused on environmentally responsive development.
Bill was a founding member of the U.S. Green Building Council's Board of Directors, and served as Chair of USGBC's Governance Committee. Over the years Bill has served on the Boards of Greening America, the Colorado Alliance for Environmental Education, RealEnergy, the Roaring Fork Conservancy, and ioby. He has also served on The Nature Conservancy Real Estate Advisory Council, ASTM Green Building Rating Committee, and the Department of Defense's Science Board Energy Task Force, the AIA National Committee on the Environment, the Department of State's Overseas Building Office Advisory Council, the Real Estate Advisory Council for the Trust for Public Land, the Interface "Green Dream Team." He is a GSA national peer, and editorial advisor for Environmental Building News, Environmental Design & Construction Magazine, and Green @ Work.
In addition to consulting, Bill writes and lectures widely on sustainable design and building practices. He is a co-author of Green Development: Integrating Ecology and Real Estate; A Primer on Sustainable Building; Greening the Building and the Bottom Line; and Biophilic Design; The Economics of Biophilia and Midcentury (un)Modern. He has published articles in Architectural Record, Progressive Architecture, Urban Land, and AIA's Environmental Resource Guide. His work has been featured in the Wall Street Journal, the New York Times, the Washington Post, Elle and Popular Science, among others, and he has been interviewed by NPR, CNN, and PBS.
Bill received a Bachelor's degree in Environmental Design from the University of Colorado, specializing in energy-conscious architecture and resource management. He holds a Master of Science in Real Estate Development from the Massachusetts Institute of Technology, where he was awarded the MIT Center for Real Estate's 1991 Public-Sector Fellowship, and, in 1995, the Charles H. Spaulding Award. In 1998 Bill was named one of five people "Making a Difference" by Buildings magazine. In 2001 he was selected as an honorary member of the American Institute of Architects, and in 2004 he was honored with the U.S. Green Building Council's Leadership Award.
In 2006, Bill founded Terrapin with longtime partners Bob Fox, Rick Cook and Chris Garvin to craft high-performance environmental strategies for corporations, governments, and large-scale real estate developments. Our diverse clients include Cacique Resort in Costa Rica, Starwood's Element hotel brand, NRDC, PNB Malaysia, New Songdo City in Korea, InterfaceFLOR, Bank of America and the National Geographic Society. Bill is based in Washington, D.C.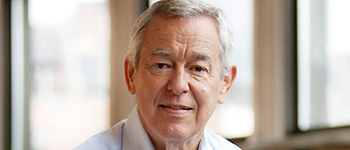 Bob Fox
Founding Partner
Robert F. Fox, Jr. is one of New York City's most highly respected leaders in the green building movement. Widely recognized for leadership in sustainability and design excellence, Bob's work has established him as an influential voice in the architectural profession, the business community, and in service to the public sector. In 2003, Bob joined with Rick Cook to form COOKFOX Architects, a firm devoted to creating beautiful, environmentally responsible high-performance buildings. The firm is best known for its design of the Bank of America Tower at One Bryant Park, the first commercial skyscraper to receive LEED Platinum certification from the US Green Building Council and the third tallest building in New York City.
The only architect on Mayor Michael Bloomberg's Advisory Council for the Office of Long-Term Planning and Sustainability, Bob joins other sustainability experts and public policy advisors in guiding the Mayor's ambitious goals for the future of New York City. Additionally, he is the Founding Chair and current member of the Board of Directors for the US Green Building Council/NY Chapter, the Chairman of the GSA Green Building Advisory Committee and a GSA Peer Reviewer, a member of the USGBC Center for Green Schools Advisory Board, and a member of the Interface Dream Green Team and the Ray C. Anderson Foundation Advisory Board.
Other major projects completed in New York include the influential 4 Times Square / Condé Nast Headquarters, which set new standards for energy efficient high-rise buildings. Bob also led the team that created the original Residential and Commercial Environmental "Green Guidelines" for the Battery Park City Authority in Lower Manhattan. The Green Guidelines have resulted in over 5 million square feet of LEED Gold and Platinum buildings.
In the summer of 2006, Bob and Rick Cook joined Bill Browning and Chris Garvin to form Terrapin Bright Green. His goal for the firm is to apply his experience designing beautiful, green buildings to a broader spectrum of planning and policy projects, and to help creative clients make a difference at all levels.
Bob has been honored with many awards, including a Leadership Award from the US Green Building Council, the New York City Council's inaugural "Big Green Apple" Award, and the Urban Visionary Award from the Cooper Union. Bob received a Bachelor of Architecture degree from Cornell University and a Master of Architecture from Harvard University. He and his wife Gloria live in New York City and the Hudson River Valley.