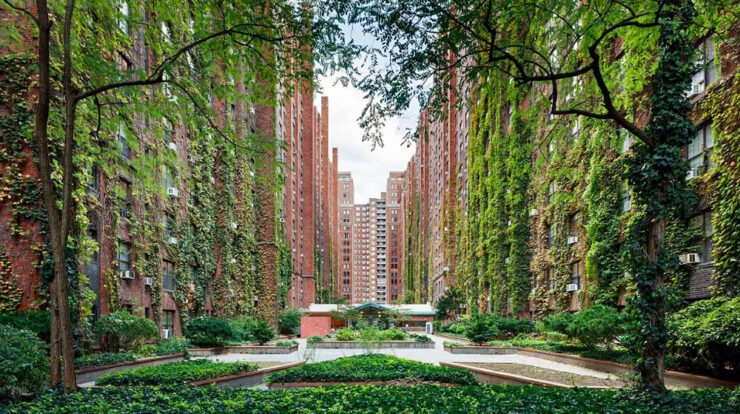 Features
A Right to Daylight, the Fight Continues
The administration at the University of California Santa Barbara finally realized that the emperor had no clothes and cancelled the mostly windowless Munger Hall, but the fight for natural light and air continues. The monstrous dorm would have sentenced over 4,000 students to bedrooms with no windows, creating a potentially disastrous living experience. In location near the ocean with beautiful daylight and with one of the most salubrious climates in the U.S., LED panels on the wall above the bed were the proposed substitute for daylight and the spaces would have been entirely dependent on mechanical ventilation. (For Terrapin's critique of the project, see our previous article.) This project came about from a growing need for affordable and dense housing—an issue faced by a number of cities across the country.
In the 19th century, Manhattan had a population of over two million people, significantly more than the current population. Many New Yorkers were densely packed in tenements without light, ventilation or running water; disease was rife. In 1867, reformers eventually pushed through regulations that required an operable window in each bedroom; granted, many of these windows just opened into deep lightwells, but they did provide a measure of day light and ventilation. Today, even supertall residential towers in New York have operable windows or operable vents.
New York City, Tokyo and numerous other locations have building codes that require daylight and access to outdoor air in bedrooms. Austin, Texas, however is not one of them. As a result, recent student housing developments for the University of Texas have been built with windowless bedrooms. Students have reported fatigue and depression symptoms associated with living in those spaces. Local architects and the Chair of the School of Architecture at the University of Texas, Austin have been trying to persuade the city council to change the building code to make these designs illegal.
Honolulu is blessed with strong tropical sunlight and a benign breezy environment. The city also has a significant housing shortage, and a highly constrained land mass. Developers are proposing converting sealed glass façade office towers into residential buildings. Post-pandemic, this discussion is happening in many places to address the lopsidedness in office and housing demand. In older office buildings with narrow floorplates and operable windows this repurposing a reasonably straight forward conversion; in buildings with large floorplates and sealed glass the conversion is more challenging.
In March 2023, Bill 21 was put forth to the Honolulu city council which would delete the detailed building code requirements for natural light and ventilation in bedrooms and bathrooms. Using the language that…
"(a) Every space intended for human occupancy must comply with the natural light or artificial lighting standards and requirements of § 16-1.
(b) Buildings must be provided with natural ventilation or mechanical ventilation in accordance with the standards and requirements of § 16-1."
Having only mechanical ventilation in bathrooms is a fairly common code practice, while having only mechanical ventilation in bedrooms is less so. Natural light is not required in bathrooms in most codes, however natural light requirements are the norm for bedrooms.
Members of the real estate development community in Honolulu argued that you could have sliding glass doors on interior bedrooms and still receive natural light. This would provide for units that were studio alcoves. The disingenuous part of this argument is that the new code as proposed would allow the construction of entirely windowless bedrooms. This was of course being put forward as a solution for affordable housing; in other words, if you are not wealthy, then you don't need natural light. The need for affordable housing should not be an excuse for building spaces that don't support healthy living.
In the U.S., the advent of commercially available electric lighting obliterated any consideration for a right to light. Thus, there is no federal law protecting the individual's right to light and daylight easements tend to pertain to a property and not an individual dwelling unit. However, it is not hard to find humane examples of dense urban housing with windowed bedrooms.
London Terrace, in the Chelsea neighborhood of Manhattan was built in the 1929 (well after the advent of electrified housing) as workforce housing for white-collar employees that would be within walking distance of midtown offices. London Terrace covers an entire city block with 14 interconnected buildings that are each 17 or 19 stories tall. With 1,700 units it was the biggest apartment building in New York, housing an estimated population of nearly 5,000. While the primary occupant type has shifted over the decades, the building remains a desirable place to live and has been the home of a number of famous artists, writers and actors.
SkyVille at Dawson is a dense mixed-use building in Singapore. The design by WOHA Architects features commercial and community spaces on the ground levels with public housing above. The plan of the 47 story towers is a series of three inter-linked diamonds, which allows for operable windows on multiple sides of each unit. Sky gardens at three levels of the towers essentially serve as pedestrian streets with gardens and play areas.
The International Building Code (IBC, Section R310) states that every bedroom must contain at least one egress window. In accordance with the IBC, requirements stipulating an operable window exit for most U.S. states such as Washington, Florida, Kansas, Maine, Minnesota, New York, New Jersey, and Utah. However, there are also 12 states including Texas and Arizona without statewide building codes,making county and city codes all the more crucial for protecting residents' right to health, daylight and air in the built environment.
Without state legislation or city codes to protect its residents, the health of students and low-income tenants will be the likely casualties of daylight deprived housing developments. But if we think of access to daylight and fresh air as components of a right to health, a different story brews.
The right to health was recognized as a human right in the 1966 International Covenant on Economic, Social and Cultural Rights. Of the six determinants of health outlined by the Office of the United Nations High Commissioner for Human Rights (OHCHR) and World Health Organization (WHO), two are particularly apropos to this fight for daylight and air:
Adequate nutrition and housing, and
Healthy working and environmental conditions.
Additionally, the right to health contains:
Entitlements such as the right to prevention, treatment and control of diseases, as well as
Resolutions 2002/31 and 2003/28 on the right of everyone to the enjoyment of the highest attainable standard of physical and mental health.
What qualifies as being "adequate" or "healthy"? Research tells us that access to daylight in particular is a preventative measure against vitamin D deficiency, depression, some cancers, and other syndromes and diseases. From extensive research on workplace and classroom conditions, we also know that impeded daylight degrades performance, sleep cycles and mental health, among other outcomes.
From this perspective, one could conceivably argue that windowless spaces meant to house people for more than a few hours a day are, to an extent, in human rights violation. Moreover, with the ever increasing push toward meeting the U.N. Sustainability Goals, cities and developers basically have two options:
Hide behind inadequate local law to save a buck—they win (short term) and everyone else loses (long term), or
Help make the world a healthier place—everyone wins.
The idea that sacrificing daylight and air is necessary to achieve affordable housing is a false premise. Everyone deserves—and has a right to—a healthy place to live.
REFERENCES

(1) Dan Roche, "University of California Abandons Plans to Build "windowless dorm" Munger Hall", The Architect's Newspaper, 9 August 2023.
(2) Juan Miro, "Windowless Bedrooms Should Never Be an Option. Let's Ban Them for Good." Texas Architect Magazine, September 2022.
(3) Kristin Downey, "No Window in Your Bedroom _ It Could Be the Future of Low-Cost Housing in Honolulu," Honolulu Civil Beat, 17 April 2023.
(4) City Council of Honolulu, BILL 21 (2023), Proposed CD1–CS1, 20 March 2023.
(5) Christine Camp, "Community Voice, City Council Housing Proposal is Not About Homes Without Windows," Honolulu Civil Beat, 18 April 2023
(6) London Terrace, Wikipedia, downloaded, 1 November 2021, https://en.wikipedia.org/wiki/London_Terrace
(7) WOHA, SkyVille@Dawson, world-architects.com, accessed 11 September 2023, https://www.world-architects.com/en/woha-singapore/project/skyville-dawson
(8) States with no building code: Alabama, Arizona Colorado Delaware Illinois Mississippi Missouri North Dakota Tennessee Texas West Virginia Wyoming.
(9) OHCHR (2008). The Right to Health, Fact Sheet No. 31. United Nations, Geneva. ISSN 1014-5567. https://www.ohchr.org/sites/default/files/Documents/Publications/Factsheet31.pdf
This article was a collaboration between Bill Browning and Catie Ryan in response to media coverage on housing crises and windowless bedrooms in Santa Barbara, Honolulu and Austin.